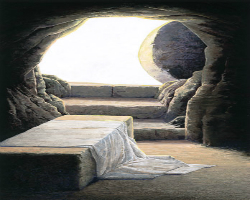 Luke 24:1-12

Very early in the morning on the first day of the week, the women went to the tomb, bringing the fragrant spices they had prepared. 2 They found the stone rolled away from the tomb, 3 but when they went in, they didn't find the body of the Lord Jesus. 4 They didn't know what to make of this. Suddenly, two men were standing beside them in gleaming bright clothing. 5 The women were frightened and bowed their faces toward the ground, but the men said to them, "Why do you look for the living among the dead? 6 He isn't here, but has been raised. Remember what he told you while he was still in Galilee, 7 that the Human One must be handed over to sinners, be crucified, and on the third day rise again." 8 Then they remembered his words. 9 When they returned from the tomb, they reported all these things to the eleven and all the others. 10 It was Mary Magdalene, Joanna, Mary the mother of James, and the other women with them who told these things to the apostles. 11 Their words struck the apostles as nonsense, and they didn't believe the women. 12 But Peter ran to the tomb. When he bent over to look inside, he saw only the linen cloth. Then he returned home, wondering what had happened. (Common English Bible)
Easter 2016
"Why do you look for the living among the dead?" the two unknown men in gleaming clothing ask Mary Magdalene, Joanna, and Mary the mother of James when they arrive the morning after the Sabbath to see the stone rolled away from the tomb that once contained Jesus's body, and the grave itself entirely empty, with only the linen cloth that had been Christ's shroud remaining.
Why do you look for the living among the dead? Why do I look for the living among the dead?
After the wreckage left behind by the terrorist attacks in Paris last November, the stories emerging from it were gut-wrenching to read, and heart-rendering to behold. Except for a bare precious few, like this one:
As transit ground to a halt in Paris, a hashtag began making the rounds online: #portesouvertes. In English, it means "open doors." It served as a beacon for people who were stranded as a result of the attacks and were either unable or too afraid to go home. They could log on and find someone who had posted the #portesouvertes hashtag and know that they would be welcomed in and be kept safe there in the house of that complete stranger. Such are the ways of life and love amid death.
And in truth, if an attack like that were to have taken place right here, in our town, I imagine the reaction of many of us would be to flee home, lock our doors, and not let anybody in, not for anything, until we felt safe again. It would be an entirely understandable thing for us to do.
But it would not have been the Easter thing for us to do.
And now again in Belgium. Over thirty souls killed, another hundred-plus injured, the images of the wounded, of the bombed-out shells of the Brussels airport, they are not numbers and images you simply wipe your mind of in an instant.
Yet in Brussels, even as the death toll was being revised upward and as every other country in Europe was put on higher and higher alert, the very same hashtag,#opendoors, began trending on Twitter from people in Brussels willing to take in other fearful pilgrims.
The stone has been rolled away, and people can enter to see that death no longer reigns over life.
Why do I look for the living among the dead? Because when death is all around, it is all I can see.
A couple of weeks ago, just across the border of Belgium in northwestern Germany, the famous, highly-regarded soccer club Borussia Dortmund hosted humble Mainz in a Bundesliga match, which Dortmund handily won 2-0. But somewhere in between the first and second goals being scored, two different fans, in different parts of the stadiums, both suffered heart attacks and had to be rushed to a local hospital.
One of them survived. The other did not.
As word spread throughout the Westfalenstadion from announcements about what had happened, the assembled capacity crowd of 80,000-plus loudly devoted fans became completely silent, and remained silent for the entirety of the game, out of respect for the fan who had essentially died in their midst. I don't know if you've ever been in that big of a crowd that was totally silent, but it's eerily solemn. Even when Dortmund scored to make the final tally 2-0, the stadium was muted.
Except for when the final whistle to end the game at long last sounded, and the Dortmund players gathered together, arm-in-arm, in front of their fans to hear the assembled crowd sing together the anthem "You'll Never Walk Alone," written by the famous composing duo of Rodgers and Hammerstein, whose lyrics go like this:
When you walk through a storm, hold your head up high
And don't be afraid of the dark
At the end of the storm, there's a golden sky
And the sweet, silver song of a lark
Though your dreams be tossed and blown
And you'll never walk alone
With tears in their eyes, athletes who are paid millions of euros to play a game for a living listened to their tens of thousands of fans send off one of their own with a genuine display of love and respect.
Why do I look for the living among the dead? Because sometimes where there has been death, I pray that life can come roaring back once more.
Maybe you saw the image of a pile of arms and hands reaching out from a drive-thru coffeeshop window towards a solitary car bearing a woman whose husband had just died the night before at only thirty-seven years old. At the Dutch Brothers a stone's throw from where Carrie and I live, the workers saw this woman in visible pain and grief, asked her what had happened, and then asked if they could pray with her. They invited her back into the warmth of the shop for some support, some compassion, and some love along with her first morning coffee as a widow.
I find spiritual strength in being one of the first people to be called upon when someone has died, but it also taxes me emotionally, and profoundly so. I am the one with two degrees in this, who has devoted a lifetime to the church and to ministry, and I can only hope and pray that I am able to present the same sort of gentle Christian witness as these few brave souls at a drive-thru coffeestand.
Why do I look for the living among the dead? Because I respond to death in order to save the living
On the morning of Easter last year, one of our longtime stalwart members, Steve Harvey, died. I heard people say that it was poetic, it was appropriate, that Steve died on Easter, because of all days, this is the one that promises not simply life, but eternal life in the name of the God who conquered death with nothing but love for us.
Truthfully, though, it changed that Easter for me, to know that someone I knew and had ministered to had died, just as it had completely changed the Sunday just several weeks prior to learn that Florence Latham had died at home right as I was preaching my sermon. And I would return here, to this life-giving place, to preach at both of their funerals amid that great and painful mix of sadness and rejoicing that tends to be present at funerals.
But the love at those funerals, that is what I took home with me. The living, breathing love.
Why do I look for the living among the dead? Because when faced with death, I long to find life.
I think that is why the women have gone to the tomb so early in the morning on Easter. They want to finish the hasty burial for Jesus from Good Friday and for them, that is something they should do. It gives them a purpose, and that's a common need right after losing someone dear to you.
But they are gently rebuked for it by these two angels for the simple reason that they have come to the tomb expecting to find a body. They should never have expected to find a body because Jesus, by His own words earlier in the Gospels, is Lord not of the dead, but of the living.
As is so often the case, though, it is one thing to hear it and an entirely other thing to see it, to experience it, to come face-to-face with the stark, unmistakable evidence that the grave has in fact not claimed another victim, that God's life and love has emerged victorious over death, and that such divine love remains very much within our frail mortal grasps if only we were to reach out and say yes to it.
It may well be a mistake to look for the living among the dead. But it is perhaps the most human mistake there is. Because we are all breathing, decaying, dying things awaiting our own eternal life.
And in that waiting, it is easy to see only the short-term, the death, and not that promise of eternal life that lays just beyond it.
But "easy" so very rarely means "right." There is a very real difference between the two.
The good news of Easter demands us to set aside that which is easy in favor of taking up that which his right: the looking for the divine life of God not in the ways we have found to kill one another, but in the ways that God has found to redeem us in spite of all the different painful and torturous ways we have found to kill one another.
Easter demands that we look for the living God in the life that God brings, not in the death we inflict upon each other in Paris or Brussels, or upon God's Son two thousand years ago in Jerusalem.
The tomb was always going to be empty, the stone was always going to be rolled away, and the shroud was always going to be discarded. Why do you still look for the living among the dead?
Image courtesy of catholic.org